Lebanese Hummus
Submitted by Catherine Rashid, Minnetonka, MN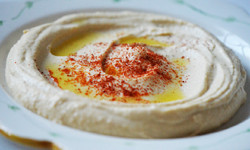 (12 servings)
Combine in a food processor and puree:
15oz. garbanzo beans, drained (Eden organic brand is good)
2 large garlic cloves, smashed or coarsely chopped
Scrape down sides, add the following and process again until creamy:
Juice of 1½ – 2 lemons (about 4-6 Tbsp.)
3 heaping Tbsp. tahini (East Wind organic, roasted/no salt is good)
2 Tbsp. extra virgin olive oil
½ – 1 tsp. ground cumin
½ – 1 tsp. sea salt
Add, by pulsing, until well blended:
1/3 cup plain low-fat yogurt
Adjust seasoning as needed. Refrigerate until one hour before serving. Garnish with black Kalamata olives and radishes. Serve on flat plate drizzled with olive oil, accompanied by warm pita bread wedges.
Tabbouleh
Ingredients
1 cup bulghur wheat
1 1/2 cups boiling water
1/4 cup freshly squeezed lemon juice (2 lemons)
1/4 cup good olive oil
3 1/2 teaspoons kosher salt
1 cup minced scallions, white and green parts (1 bunch)
1 cup chopped fresh mint leaves (1 bunch)
1 cup chopped flat-leaf parsley (1 bunch)
1 hothouse cucumber, unpeeled, seeded, and medium-diced
2 cups cherry tomatoes, cut in half
1 teaspoon freshly ground black pepper
Place the bulghur in a large bowl, pour in the boiling water, and add the lemon juice, olive oil, and 1 1/2 teaspoons salt. Stir, then allow to stand at room temperature for about 1 hour.
Add the scallions, mint, parsley, cucumber, tomatoes, 2 teaspoons salt, and the pepper; mix well. Season, to taste, and serve or cover and refrigerate. The flavor will improve if the tabbouleh sits for a few hours.