Falafel
Yield: About 20 balls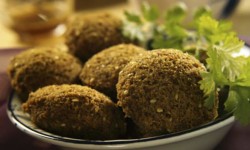 Ingredients
1 cup dried chickpeas
1/2 large onion, roughly chopped (about 1 cup)
2 tablespoons finely chopped fresh parsley
2 tablespoons finely chopped fresh cilantro
1 teaspoon salt
1/2-1 teaspoon dried hot red pepper
4 cloves of garlic
1 teaspoon cumin
1 teaspoon baking powder
4-6 tablespoons flour
Soybean or vegetable oil for frying
Chopped tomato for garnish
Diced onion for garnish
Diced green bell pepper for garnish
Tahina sauce
Pita bread
Stuffed Green Peppers or Zucchini
Ingredients
_Cup Rice
1 LB Ground Lamb or Ground Chuck
3 TBS Butter melted
_ cup water
Salt to taste
Pepper to taste
Cinnamon to taste
Large can tomato paste + 1 can water
6-8 Green Peppers (depending on size) or
10-12 Zucchini or yellow squash
Put rice in a bowl and cover with boiling water and salt to taste and soak for 20 minutes. Rinse in cold water and drain well.
Hollow out peppers or zucchini and wash – set aside.
Mix rice, lamb (or beef), melted butter, salt, pepper, cinnamon and _ cup water. Stuff peppers or zucchini leaving room at the top for the rice to expand. Place in pot. Cover with large can of tomato paste and 1 can of water. Bring to a boil reduce heat and simmer for 1.5 to 2 hours.