Knafeh
Ingredients:
1 package of shredded Fillo dough
1/2 pound of butter melted
2 lbs ricotta cheese
1/2 cup pine nuts
1/2 cup minced pistachio
3 cups sugar
1 tsp lemon juice
First step is to defrost the Fillo dough. Do this by shredding the Fillo in a bowl continuously till completely defrosted.
Once this occurs, you start adding the butter while continuously shredding the dough. When this process is complete and the dough is shredded thoroughly, separate the dough into two equal portions.
In a well buttered pan, spread out the dough thoroughly, but do not compress. Once the dough is spread evenly, start preparing the ricotta cheese. Lay the cheese patties onto the prepared dough in the pan. Once the layer of ricotta cheese is completely covering the dough, lay the second half of the dough unto the cheese so that it is evenly distributed.
Preheat the oven to 350 degrees, then place the pan in the middle for approximately 45 minutes. What you need to look for, is that the dough browns. Once achieved, you will need a larger pan in which you will flip the Knafeh so the the bottom is on top and vice versa. Bake again till the browning occurs on the adjacent side. Once browned on both sides, the Knafeh is finished.
The last step is to top the Knafeh with the sweet syrup, pine nuts, and pistachio.
Lebanese Rice Pudding With Pistachio
Ingredients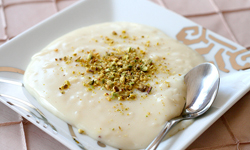 4 cups of milk
10-12 teaspoons of sugar (to taste)
½ cup of rice
2-4 Table Spoons of corn flour
2 teaspoons of orange blossom water
Pistachio as a garnish
Rinse the rice then let dry
Boil the milk with the sugar and rice on low heat for 15 minutes or until the rice softens all while stirring continuously.
As the rice softens add the orange blossom water and the corn flour and stir it in and boil/stir for another 5 minutes or until the pudding hardens and gains the consistency of yogurt. If you add too much corn flour the pudding becomes too jello-like and if you add little it'll take on a more watery consistency. This is a personal preference. Try adding 2 first then increase if you need to.
As the pudding hardens, pour it in your heat-resistant serving cups/plates and let rest for a few minutes before garnishing with pistachio and refrigerating.
Serve cold.