Chicken with Rice- Rooz Bie 'Tfein
Submitted by Michele Stanley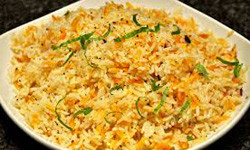 This was my Sitti Mosa's recipe- my father Leroy Rashid's mother
Preheat oven to 350 degrees or if glass pan 325 degrees Spray 9×13 casserole dish or pan
Ingredients:
Chicken- I use skinless thighs or breasts Butter
3 medium cooking onions slivered
1 can chick peas drained and rinsed
1 cup uncle Ben's rice ( brown or white)
2 cups chicken broth
salt, pepper, cinnamon or whatever spices you want my variations:
I add 1 can diced tomatoes to raw rice and mix I add whatever veggies I have, celery and sweet peppers usually
Place chicken in coated pan in a single layer, then season with salt and pepper and seasonings of your choice. Melt butter in skillet, then add veggies and sauté until onions are brown. Lay veggies over chicken, then layer chick peas, then cover with rice. Pour broth over rice until it is slightly covered. Bake for approximated 30 minutes until liquid is 1/2 cooked up. Then cover with aluminum foil and continue cooking for 15-20 minutes. You can also lower heat when you cover the pan and cook longer until you are ready to serve.
Spinach Fatayer- Spinach pies
Submitted by Michele Stanley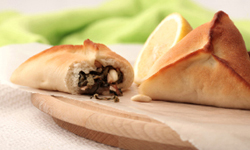 Preheat oven to 375 degrees
Line cookie sheets with parchment paper
Pillsbury hot roll mix in a box- prepare as directed making balls of dough
Also I make spinach filling 1 or 2 days ahead so can marinate in fridge- and less time consuming to make
Spinach filling
3 – 10 ounce bags or boxes of cut spinach thawed
3/4 cup fresh lemon juice
1/2 cup olive oil
salt and pepper to taste
1 large onion chopped fine
(toasted pine nuts or pomegranate seeds are optional)
I squeeze the spinach in my hands to get out excess water, then add other ingredients and mix well. may make pies now or if wait, pull out filling from fridge and get to room temperature and stir,then taste for further seasoning if needed.
When dough balls are ready, lightly flour surface and roll out to a circle. Place filling in center of dough. close in a triangular pattern pinching edges together.
bake for 8-10 minutes until bottoms are brown and tops are turning slightly brown.
Bake Eggplant
Submitted by Emily LaHood
Eggplants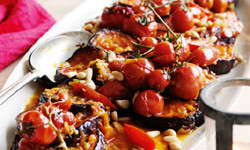 Peeled and Sliced ½" Thick – Salt and place paper towels to drain moisture
Brush with oil and place in oiled pan
Bake or broil until golden brown
Top each slice with hashwa mixture – Browned meat and onions seasoned with salt, pepper and dash of cinnamon – (as used for meat pies or baked kibba)
Add pine nuts and pomegranates if desired
Top with mixture of stewed tomatoes and tomato paste (seasoned with salt, pepper, cinnamon) – Bake at 350 degrees until done.
Serve with Lebanese Rice.
Sesame Kaak
Submitted by Emily LaHood
Original Recipe for 10 Cups of flour – can be cut in half)
10 C. Flour
4 C. Sugar
1 TSP. Salt
3 TSP. Baking Powder
3 C. Sesame Seeds
3 TBLS. Ground Mahleb
3 TBLS. Ground Anise
2-1/2 – 2-3/4 C. Ved. Oil (warm)
1(+) C. Warm water
Mix all dry ingredients – Add warm oil and knead – Add 1. C Warm Water (or more as needed) Consistency of pie crust
Either form balls, flatten and shape – or roll out dough between wax paper and cut with cookie cutter. Dip into sesame seeds and place on lined cookie sheet.
Bake at 350 until light brown.